Plastic molding
Nodinson has variety size injection molding machines, large, medium and small siz from 80T to 300T. We carry out our quality control procedure strictly in accordance with ISO9001:2008, which ensures that our products can meet the customer's requirements. Meanwhile, Nodinson has rich experience in multi-cavity molding with full hot runner system and half hot runner system. All of imported material are produced in USA, Germany, Japan, Taiwan and so on.

Universal material::ABS、PC、PC+ABS、POM、PMMA、PA、PPT、PE、PVC and so on;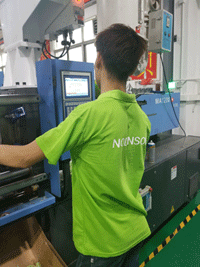 Special material:PSU、PEEK、ULTEM Nylon6+Carbon filter and so on;

Hot runner system injection molding;

Double color injection molding;

Gas-assisted injection molding.



We also can supply mass production, assembly and secondary processing, with good quality system to monitor all operations performed in a controlled manner, and effectively ensures final products' quality. The injection molding department has the capability to operate 24 hours a day, ensuring the on-time production & delivery of every part.